Does the Public Sector need to embrace Hybrid working or risk loosing its workforce?
The majority of job adverts within the Public Sector (and beyond) feature the phrase – "We offer flexible working" as a benefit. However, this flexible working is limited on how flexible it can be; generally its telling you they don't mind what hours you work, as long as you work the core hours and get your work done. What they don't mean is, we don't mind where you work as long as you can attend core meetings face to face and get your work done.
Home working, hell geographically diverse (not London) working has always been a bone of contention within the Public Sector; in the couple of years before the pandemic there was a push to get more staff our of London and establish offices 'in the regions etc' but this has always met with some resistance, as Ministers themselves are firmly London based, and if your work required any kind of interaction with a Minister then you'd need to be in London at least part time.
There has long been the view with managers in the Public Sector that staff (especially Operational ones from my experience) couldn't be trusted to work at home full time, that it would be impossible to monitor their work and ensure things got done on time etc. Obviously given the Public Sector is there to spend public money – keeping staff within your eyesight so you could ensure they were not wasting money was the most important thing. That was never the vocalised reason though, instead it was concerns about staff accessing or taking home users personal data or commercial sensitive information; a fear that staff would not (or could not) keep data secure if it left the office. This attitude slowly dispersed as you moved up the ranks, proving this was more about hierarchy and a command and control culture based on a pervasive lack of trust of staff.
The pandemic has meant for the first time all (or most at least) office staff have been not only allowed, but required, to work from home. It finally stopped the traditional slog to the office and forced managers to trust their staff could in fact get the work done perfectly well when not in the office; and those same staff proved they could deliver from home just as well as the office.
But now as the pandemic ebbs, the question has come around – do staff really need to return to the office? Most Departments so far seem to be taking the sensible approach and talking about phased returns to the office and the use of hybrid working. But one Minster has already stated that as "People who have been working from home aren't paying their commuting costs… they have had a de facto pay rise… if people aren't going into work, they don't deserve the terms and conditions they get if they are going into work."
Not only is this ridiculous at a time that public sector pay has been effectively frozen for years, as the Retail price index has continued to increase higher than public sector pay; but it also ignores the needs of both those people who can't go into the office for a health reason and the issues departments themselves have faced for years when it comes to their offices.
Departments have long struggled with over crowding; with at least two (often more) staff members to every desk. Due to this over subscription, most offices moved to hot-desking; but that comes with its own problems as team leaders and office managers try to keep track of who is sitting where on what day. Desk allocation has long been the thorn in every office manager and team leaders side. Not only do you have more people than desks, but a number of staff have health constraints the limit where they can sit. For ever person who needs a window desk due to migraine etc, you've got a person who needs the thermostat at a specific setting (often sat next to someone who needs a completely different setting for their own health condition); or needs a desk nearer the bathrooms etc. Office planning is a complex nightmare of logistics and expense.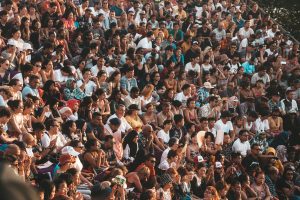 The other problem teams face when organisations insist that everyone comes into the office; is that your automatically excluding those who can't. For those people who have a disability that means they are unable to travel into an office daily they are at worst either excluded from jobs that insist on it, or at best they are the one home worker in a team of office workers; generally leaving them feeling excluded from decisions and conversations; creating feelings of isolation and exclusion.
Disabled people have for years been crying out for more home working, only to be told it wasn't feasible; but now that the pandemic has proved it is indeed workable, if employers don't use this as a time to examine properly how to enable and support home workers; they face at best the exodus of staff who want (or need) to have home working as a proper option; and at worst the start seeing more and more legal challenges from staff who feel they are being treated unfairly and excluded from work the pandemic has proved they can do just as well from home.
We need to properly consider what the future ways of working look like, and how we can proactively be inclusive to everyone, whether they choose to work from an office, from home or a mix thereof (which seems to be the preferred method of most people according to the million LinkedIn surveys I've seen floating around). A recent study by YouGov has found that over 75% of people want the option of Hybrid working; with most people wanting the flexibility to spend 2-3 days working from home and 2-3 days working in the office.
As Sammy Rubin, CEO and founder of YuLife has stated "Workplaces now need to give employees more tools to help them benefit from the new expectations they now have from their employers following the pandemic. Perks and benefits have to be made more accessible and tailored to individual employees' needs, while also benefiting both remote staff as well as those coming into the office in an era increasingly characterised by a hybrid working model." Allowing people to work from home isn't enough, we need to proactively be thinking how we can best support and include those working from home in meetings in the same way we include those working in the office.
While the public sector has always struggled with loosing staff to the private sector for money; the public sector has always prided itself on offering better ways of working and a better work life balance etc. However, many private sector companies are using this opportunity to look at their own ways of working; either moving away from offices entirely to save costs and investing properly in home working, or engaging and consulting with their staff to support a move to hybrid working, some are even using this as an opportunity to consider moving to 4 day weeks etc. They've recognised that this not only benefits, them, their staff, but also the environment at a time when Climate Change is becoming one of the hottest topics (pun intended) by reducing the number of commuters etc.
If the public sector insists on a full return to the office, then they risk loosing even more staff to the private sector; as people begin to prioritise their quality of life, and realise the private sector doesn't just offer more money, but it can also offer better ways of working. The Public Sector has much bigger issues to deal with (like climate change!) rather than focusing who is working where; and Ministers need to be looking at the bigger picture. As Dave Penman from the FDA union has said "What should matter to ministers is whether public services are being delivered effectively, not where individual civil servants are sitting on a particular day."
All it takes is a little trust, and a degree of flexibility.