It's something that has come up a lot in conversations at the moment, what is Digital Transformation? What does Digital Transformation mean to me? I always joke that it's my TED talk subject, if I had one; as such I thought why not write a blog about it?
What is Digital Transformation?
According to Wikipedia, Digital Transformation "is the adoption of digital technology to transform services or businesses, through replacing non-digital or manual processes with digital processes or replacing older digital technology with newer digital technology."
The Wikipedia definition focuses on 3 of the main areas of Digital Transformation; technology, data, process; which are the areas most people quote when but doesn't reference organisational change; which is often recognised as the 4th pillar needed for successful transformation.
If we're being specific, then I agree with the Wikipedia definition at the project or service level, but when someone says Digital Transformation to me; I automatically start thinking about what that means at the organisational level, before moving onto the other areas.
I've done plenty of blogs previously on the importance of considering your organisational culture when trying to implement change; and how likely it is that your transformation will fail if you don't consider your culture as part of it; but that as we see from the Wikipedia Definition; the people side of Digital Transformation is often forgotten.
There's a good blog here that defines the 4 main challenges organisations face when looking to implement Digital Transformation, which it defines as:
Culture.
Digital Strategy and Vision.
IT infrastructure and digital expertise.
Organisational Structure.
Here, we see Culture is the first/largest challenge mainly organisations face; which is why it's important is't not treated as an afterthought. Why is that? Is our methodology wrong?
So how do we go about delivering Digital Transformation?
The Enterprise project has a good article here on what it views as the 3 important approaches leaders should take when implementing Digital Transformation.
Solve the biggest problem first.
Collaborate to gain influence.
Keep up with information flows.
There's (hopefully) nothing revolutionary here; this is (in my opinion) common sense in terms of approach. But so often, when we start talking about Digital Transformation, we can quickly fall into the trap about talking about frameworks and methodology; rather than the how and why of our approach to solving problems. So, are there any particular frameworks we should be using? Does the right framework guarantee success?
There are lots of different frameworks out there; and I can't document them all; but below are some examples…
This article sums up what it deems as the top 5 Digital Transformation frameworks, which are the big ones; including MIT; DXC; CapGemini; McKinsey; Gartner; Cognizant and PWC. It's a good summary and I won't repeat what it says about each, but it looks at them in the following terms that I think are key for successful Digital transformation:
customer-centricity
opportunity and constraints
company culture
simplicity
There are obviously a few others out there; and I thought I'd mention a couple:
The first one is this AIMultiple; this one interestingly has culture as the final step; which for me makes it feel like you are 'doing transformation to the teams rather than engaging teams and bringing them into the transformation; which doesn't work well for me.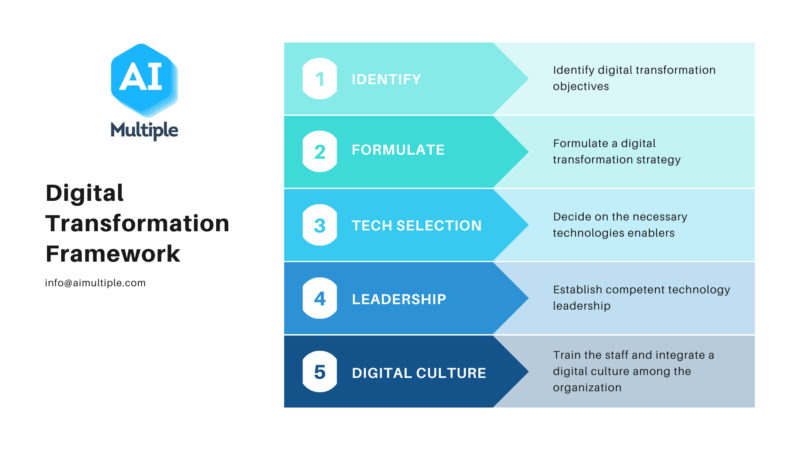 This second one; from ionology, has Digital Culture and Strategy as its first building block; with user engagement as its second building with equal waiting to Processes, Technology and Data. It recognises that all of these elements together are needed to deliver Digital Transformation successfully. This one feels much more user centric to me.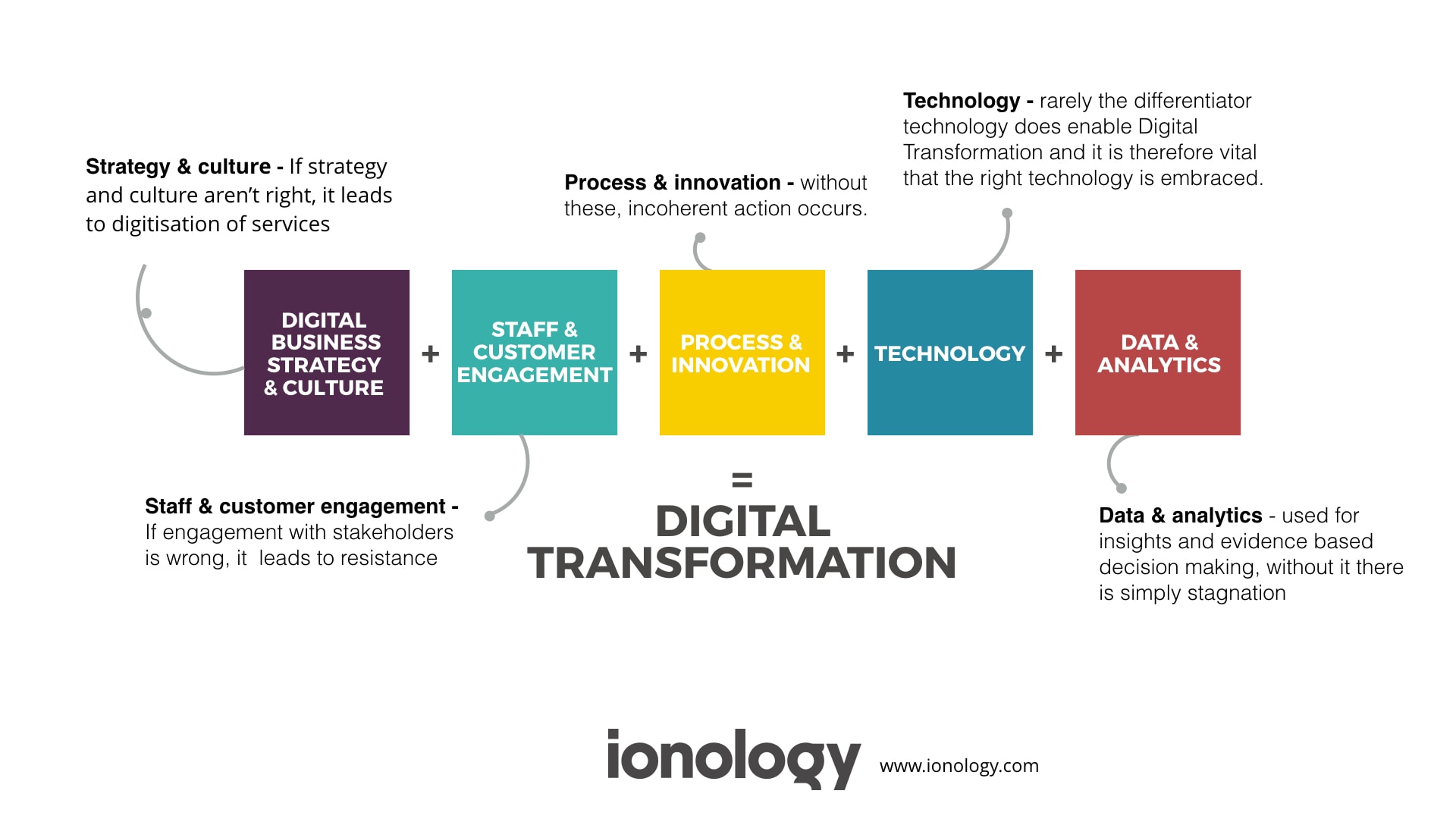 So where do you start?
Each of these frameworks has key elements they consider, in a particular order that they feel works best. But before panicking about which (if any) framework you need to pick; it's worth remembering that no single framework will work for every business and any business will need to tailor a framework to fit their specific needs. 
How you plan to approach your transformation is more important than the framework you pick. Which is why the Enterprise article above about good leadership for me is spot on. We should always be asking:
What is the problem you're trying to solve within your organisation by transforming it, and why?
Who do you need to engage and collaborate with to enable successful transformation?
What is the data you need to understand how best to transform your organisation?
Once you know what you're trying to achieve and why, you can understand the options open to you; you can then start looking at how you can transform your processes, technology, data and organisational structure; at which point you can then define your strategy and roadmap to deliver. All of the above should be developed in conjunction with your teams and stakeholders so that they are engaged with the changes that are/will be happening.
Any framework you pick should be flexible enough to work with you to support you and your organisation; they are a tool to enable successful Digital Transformation; not the answer to what is Digital Transformation.
So, for me; what does Digital Transformation mean?
As the Enterprise Project states; Digital transformation "is the integration of digital technology into all areas of a business, fundamentally changing how you operate and deliver value to customers. It's also a cultural change that requires organisations to continually challenge the status quo, experiment, and get comfortable with failure." Which I wholeheartedly agree with.