I regularly talk to organisations about why having vision and mission statements are important. Over the years I've seen many good examples and some bad ones too, both inside and outside the public sector.
They often seems to be overlooked when deciding to transform an organisation, instead companies tend to focus on their Target Operating Model or individual delivery of products. While delivery of the Products is important, because as Tom Loosemore says the 'Strategy is delivery' after all; and a Target Operating Model ads value; without a clear Vision and Mission statement the teams involved in delivery can find it hard to focus on what they are aiming for (the vision), and how they are aiming to achieve that goal (the mission statement).
There's been a few good blogs written about Mission statements, these blogs by Mel Cannon, Ben Holliday and Rachel Woods highlight how a good mission statement can help a company deliver, by helping them focus on 'how' they will achieve their aims. But there is little value in understanding 'how' you will seek to deliver a goal, without understanding 'what' you want to deliver. As such, today I want to focus on Vision's, what makes a good one and why they are important.
So why is having a Vision important?
As Ben Holliday said in his blog a good Vision sets out "What we want to achieve. Setting out an ideal future state eg. what will the council of the future and local services look like?" It is the future state we are striving for. It is what our staff know to aim for, the thing that gives us focus; especially in the public sector it is where we will end up if we've managed to deliver our strategy. The reason a Vision is important s that it helps us plan our future. It sets the agenda, the goal.
As good summary from lifehack.com states the question you should be asking when developing your vision is "If you were to take a photo of your future business now, what would it look like? What do you want your business to be recognized for one day?" This could be as simple as being the best, fastest, most well known or trusted provider of your product and service.
What makes a good Vision?
There are different theories on this, this blog from Projectmanager.com states that the best vision statements are concise, clear and future orientated (amongst other things).
Whilst changefactor.com states here that a good vision statement should be unique and evoke emotion, it should say "something about us, our organisation, our operating environment, our dream. When we read it, it should tell us where we are going. We should not be able to substitute our vision statement for other organisations inside and outside our industry."
I agree with all of that, but the thing missing for me is that they need to be based on your user's needs, to evoke emotion, you are making assumptions about the needs of your customers and how your organisations will be meeting those needs.
If you look at some of the big name vision statement's out there you can see how they have tried to follow the above guidelines.
Disney: "to be one of the world's leading producers and providers of entertainment and information."
Oxfam: "Our vision is a just world without poverty. We want a world where people are valued and treated equally, enjoy their rights as full citizens, and can influence decisions affecting their lives."
Ikea: to create a better everyday life for the many people – for customers, but also for our co-workers and the people who work at our suppliers.
Personally, Disney's vision seems to lack emotion to me, but it is definitely clear and concise. Both Oxfam and Ikea's vision's evoke more emotion, but I think it could be argued that Ikea's vision is not unique to them. It would be easy to mistake Ikea's vision for that of other companies. Of the three Vision's above, I personally find Oxfam's the best in that it is unique to them, evokes emotion and sets out their clear intent.
The thing that interests me is that for many companies, their vision is words. But I actually really like visual vision's, I've always found them easier to get people to buy into, and for organisations staff to understand their place and the value they are adding.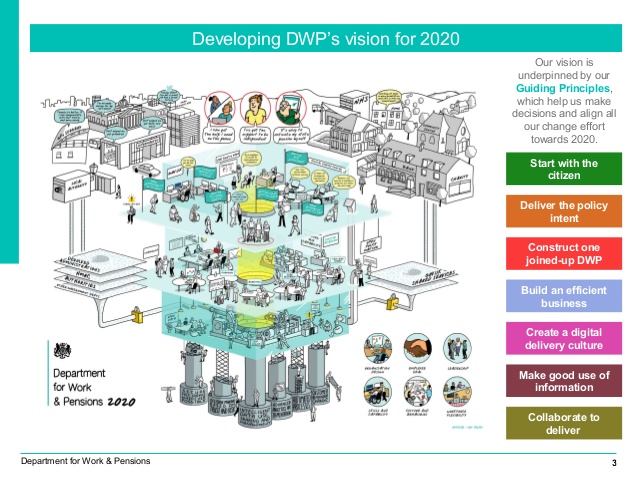 The above vision developed by @DWPDigtial showed how the Department would be organised in the future, with their guiding principles clearly stated. It was developed back in 2017 and showed how the different elements of the organisation would work together to deliver it's services. While the vision was definitely unique to DWP; it was not concise, or even very clear and easy to understand. You could argue that this was actually their Target Operating Model rather than a Vision, given it doesn't meet the criteria above of being clear and concise, but it does show clearly where the Department was going.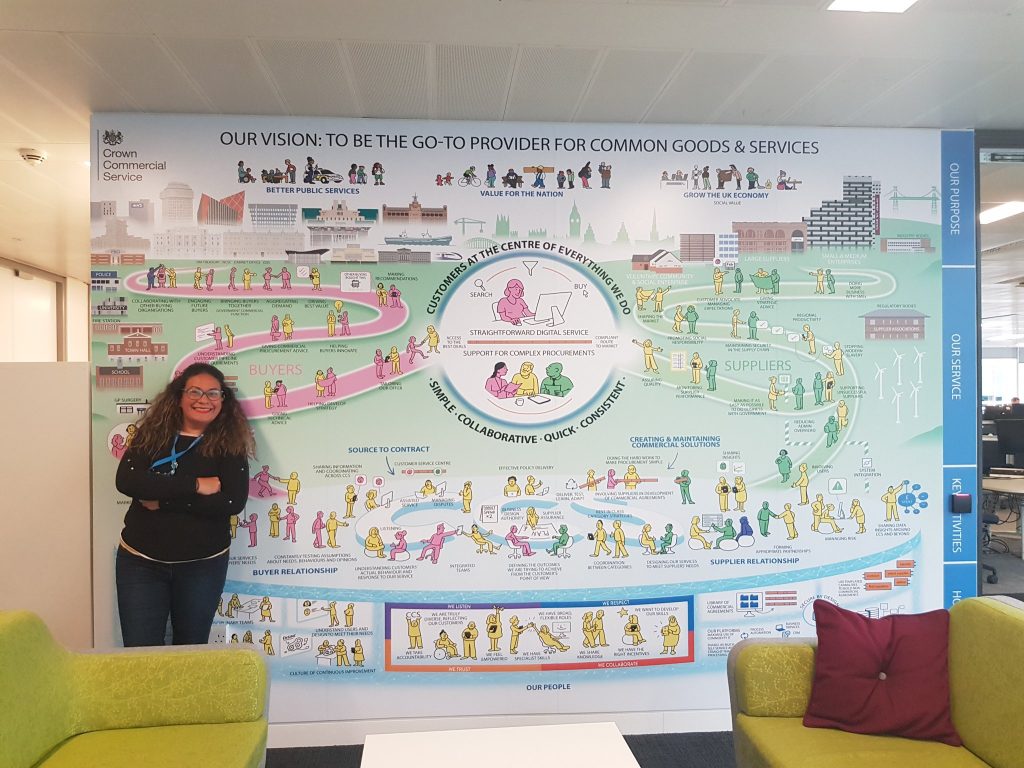 Another great example is this one by @CCS, which is both clear and simple in it's statement, and in how it is visualised.
As the Crown Commercial Service is responsible for:
managing the procurement of common goods and services, so public sector organisations with similar needs achieve value by buying as a single customer;
increasing savings for the taxpayer by centralising buying requirements for common goods and services and bringing together smaller projects;
leading on procurement policy on behalf of the UK government increasing savings for the taxpayer by centralising buying requirements for common goods and services and bringing together smaller projects;
It's Vision to be the "Go – To provider form Common Goods and services" makes sense. It is concise and clear, and specific to their organisation.
The benefit of both of these vision's is that they help the viewer to 'see' how the organisations intend to transform and develop themselves.
Knowing where you are going is important:
No matter what format you go for, when developing a Vision it's important to remember that it should be unique to your organisation, clear, concise and easy to understand, and that it helps your users, staff and stakeholders understand what the organisations aims are, where the organisation is heading and why.
But the most important thing to remember is that your Vison is not a static thing. You should constantly be revisiting it and checking that it is still valid and innovative. That it still drives your organisation forward and represents your users needs and where you want your company to be in the future.