How we define a product vs a service is a debate that comes up regularly; as proved by Randal Whitmore (Deputy Director of New Propositions at the UKHSA) today on Twitter:
In fact, it comes up so regularly, I could have sworn I'd blogged about it before; but if I have, it isn't on here! So, what is the difference and does it matter?
If you search online for 'Product vs. Service' you'll get a very dry (an in my opinion not that helpful) answer that "A product is a tangible item that is put on the market for acquisition, attention, or consumption, while a service is an intangible item, which arises from the output of one or more individuals. … In most cases services are intangible, but products are not always tangible."
There you go, question answered!
Ok, so lets say you actually went a useful response; that is understandable; what's the answer? The best analogy I have ever found to help describe this is one I heard Ben Holliday use once, and I've since stolen and reused any time anyone ever asks me this question (which is pretty regularly)!
So, let's talk about going on holiday!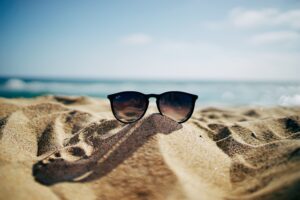 A service is all about someone delivering the outcome you want to achieve.; its the holistic wrapper that contains all the end to end steps needed to enable you to achieve that desired outcome.
Let's say you want to go on holiday; you can choose to use a travel agency like Tui who offer holidays as a service. Should you decide you want a package holiday, you can book and pay for your entire holiday through Tui and they will organise everything for you. Or you may decide you want to do all the organisation yourself and as such just need to book some flights, and go directly to KLM or EasyJet to book your flights. The services these companies offer are all similar (Tui will let you just book flights for example) but they will all differ in some ways; which is generally where the products that make up the service come in.
Products are the individual components that are part of that holistic service wrapper.
For our example of a package holiday; you can choose your flights; how much luggage you want to take with you, what hotel you want to stay at, whether you want to go on any excursions etc. These are all products a travel agency offer as part of their wider service; and you can choose which products you wish to use; But it's not only that, you can also choose how you book your holiday. You can book via the app; via their website; you could call them and book over the phone; or you could book in one of their shops (well, ok not so much nowadays, but for our hypothetical example lets say you still can).
Lets say it's the day before your holiday; A few years ago Tui released a new product; which was their App, which included lots of new features that customers could choose from. Now a days you can check in online; you can download your boarding pass to your phone; you can choose your seats; request special assistance and choose to check your bags in all before you get to the airport via the app.
We've talked about the customer facing products and features that make up the holiday service a travel agency offers; but there is obviously a lot more to it than that. As part of developing each of these products the travel agencies had to think about how they would all fit together to form the holistic service. Theres also all the back end integration to think about, to offer their holiday Service Tui need to work with other suppliers (like the Airports and hotels; which partner with Tui, but are not owned or controlled by them). Should your flight get cancelled or delayed because of bad weather or congestion at the airport; the travel agency will first need to be notified, and then to notify you as their customer and give you options on what to do next etc.
When they decided to launch the App; or to open up holiday options into a new country; a programme could have been set up to manage this. A programme is one way an organisation may choose to manage multiple work streams or teams that are working to deliver something. They are entirely internal, and make no difference to the end users experience.
So there you have it:
A service is about the desired (intangible) outcome; it's holistic and made up of many products etc.
A product is a succint (tangible) element that delivers value, it is made up of many features. A product can stand alone or alongside other products as part of a holistic service.
A feature is a componant of a product that adds value as part of the wider product but offers little value when utilised alone.
A programme is an organisational governance mechanism that can be used to organise and manage teams to deliver an outcome.