Slight change to my normal blog topics today. This is an essay I wrote in 2005 while studying American politics. I thought of it the other day when discussing the recent events in America. Reading through the essay I was amazed at how much of it was still relevant to the world today; and thought it was worth sharing for those with an interest in such things. The one obvious change I spotted when rereading my essay is the changing and evolving role Social Media has had in the world of news coverage, and political (or ideological) bias; and impact this has had on the so called 'informed democracy'.
(When reading, please remember I was much younger when I wrote this, I've resisted the urge to tamper with it, and instead shared it as I wrote it over 15 years ago – the only thing I've added is the pictures!)
"Independent, aggressive and critical media are essential to an informed democracy."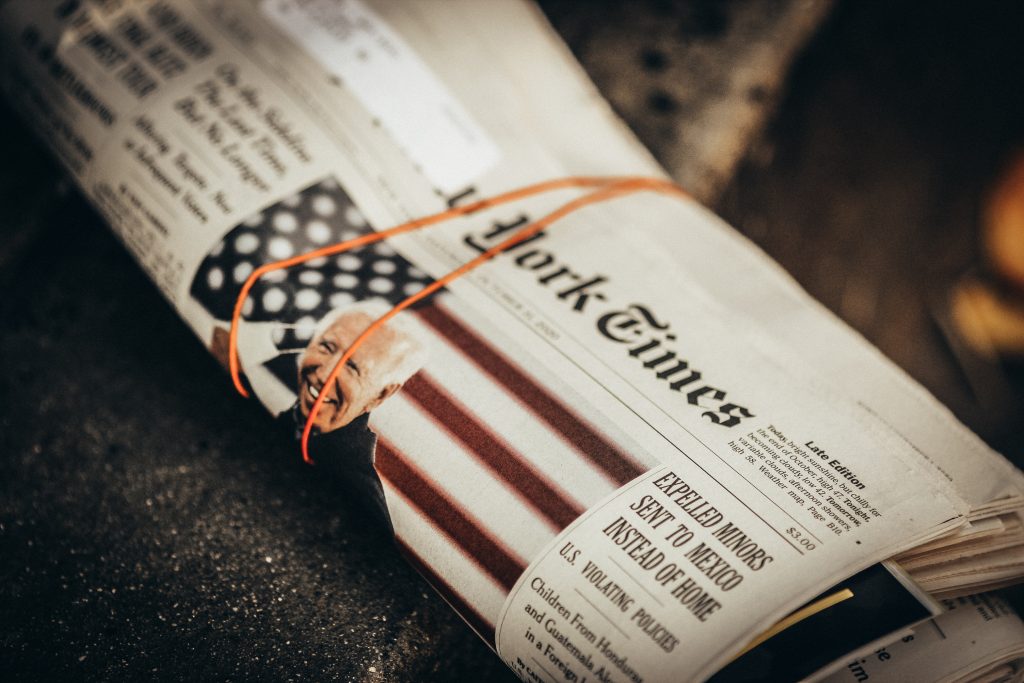 Today the debate over bias in the media is a hot topic, with many surveys and poll's being carried out to establish if there is a bias in the media, and if so what this bias is. The definition of bias "is a prejudice in a general or specific sense, usually in the sense for having a predilection to one particular point of view or ideology". Many websites have been founded by different organisations to 'watchdog' the media for any signs of bias, one way or another. One of the main topics of this debate on the nature of bias in the media is whether the media is more biased towards liberals than conservatives. Over the last thirty years the growth of the internet and cable television not only on a national but a global scale has led to an eruption of media networks. Newspapers are distributed across the world, cable news channels are available in the majority of countries and the internet can be used to keep track of the news at a click of the button. These media outlets have led to a change in how the news is delivered.
While accusations of bias in the media may have grown over the last fifteen years, in fact bias has always been present in the media. Newspapers in the late 1700s and early 1800s reflected the views of one of the political parties. James Fallow noted that "The Philadelphia Aurora was the voice of Thomas Jefferson and his Republicans (forbears of today's Democrats). The Gazette of The United States was a steadfast supporter of Alexander Hamilton- Jefferson's greatest rival- and his federalist party." But this partisanship meant that the newspapers circulation was limited to those of its political affiliation. Thus by the 1800s newspapers began to realise that by becoming more bi-partisan they could increase their circulation and their popularity by having politicians court them for favour. Thus they began to move away from their image of a mouthpiece for a political party towards a more bi-partisan image. This did not mean that all newspapers were now 'un-biased', but as tabloid newspapers grew in popularity these openly biased papers were faded out.
In the early 1940s the Federal Communications Committee established the 'Mayflower Doctrine' which prohibited editorializing by stations. This was then changed in 1949 when the Federal Communications Committee introduced the 'Fairness Doctrine' in the hopes that all coverage of controversial issues would be balanced and fair. They believed that all media outlets had an obligation to provide reasonable opportunity for discussion of different points of view on controversial issues that were of public importance. The fairness doctrine ran parallel to Section 315 of the Communications Act of 1937, which was a federal law that required stations to offer "equal opportunity" to all political candidates running for any office if they had allowed any other persons running for that same office the use the station.
Yet the Fairness Doctrine disturbed many journalists, who considered it a violation of their First Amendment right to free speech and free press. They believed this should allow reporters to make their own decisions concerning the fairness and balance of stories. Fairness, in their view, should not be forced on them by the Federal Communications Committee. There for in order to avoid this requirement to go out and find opposing viewpoints on every issue raised in a story, some journalists began to simply avoided covering any controversial issues at all. This effect was exactly the opposite of what the Federal Communications Committee intended. 
But by the late 1980s the FCCs argument about finite resources was decreed by the Supreme Court as null and void. This was due to the increase in the number of Cable Channels available. Thus in 1985 the FCC issued its 'Fairness Report', stating that the Fairness Doctrine was no longer having its intended effect, and that it might in fact have a "chilling effect" and may also be in violation of the First Amendment.
It has always been argues that the media promotes liberal views above those of conservatives. This argument has been used against journalists and editors for decades. Many reasons for this have been suggested; because of the nature of their work, journalists are very likely to meet many types of people from all walks of life. Reporters, especially when they are just beginning their careers, cover human interest stories, often meeting those people who have had some kind of tragedy in their life. This can be especially true in city's, where critics argue that reporters are likely to form a liberal outlook by welcoming diversity and developing a miss trust of authority through their day to day dealings with politicians, policemen and big business'.
Many reporters argue that while their views may be more liberal than those of the average population of America, these views do not affect their reporting. They argue that they are capable of reporting in a largely un-biased manner when covering critical stories. While many critics argue that most reporters can not separate their private political views from their work. Studies carried out by organisations like the Pew Charitable Trusts Project for Excellence in Journalism have found evidence that suggests that, as James Fallow suggests, "the reportorial elite- those based in large cities and working for large news organisations- have an outlook different from that of average Americans." But by stating that Journalists have generally more liberal views than the public, does it not follow that if the majority of press was liberal, the public's opinions would lean more naturally to that of the press? Unless as many reporters claim, they can separate their private political views and those they express.
| | | |
| --- | --- | --- |
| | % Journalists. | % Public. |
| Liberal | 55 | 23 |
| Conservative | 17 | 29 |
| | | |
| Pro-Choice | 82 | 49 |
| Pro-Death Penalty | 47 | 75 |
| Pro-Gun Control | 78 | 50 |
| Pro School Prayer | 25 | 74 |
| pro Affirmative Action | 81 | 56 |
| Pro-High Defence Spending | 15 | 38 |
| Pro Gay Employment rights. | 89 | 55 |
This view can be backed up by a further poll carried out in the year 2000 by 'Pew' this poll found that the bias of media coverage for the Presidential candidates Al Gore and George W Bush was in largely in favour of the Republican candidate George W Bush. 
| | | |
| --- | --- | --- |
| | Al Gore | George W Bush |
| Positive Press | 13% | 24% |
| Neutral Press | 31% | 27% |
| Negative Press | 56% | 49% |
| Total: | 100% | 100% |
Some liberal reporters have stated that they are just as likely to give negative press to their own party as they are to the conservatives. When looking at the treatment of President Clinton by the press it can be noted that Clinton received just as much negative press from liberal reporters in comparison to conservative reporters. James Fallows notes that the treatment of Clinton by the supposedly 'liberal press' illustrates the problems of such a theory. He notes that Clinton should have been the ideal candidate to a liberal press, Clinton "advanced the 'New Democrat' positions that many liberal columnists had been advocating"…"Nonetheless, coverage of Clinton was both more hostile and more volatile than that of any president since Harry Truman." One previous white house staffer has stated that peer pressure encourages reporters to not get to close to any Democratic White House, if they do so they are very likely to lose respect from other reporters. Fallows also noted the different treatment of presidents by their own party's publications. "The semi-liberal magazine the New Republic had beaten the drum for the Clinton campaign. But even before Clinton took office the magazine inaugurated a 'Clinton Suck-Up Watch' feature, in which reporters were ridiculed for cozying up to Clinton too much. It is inconceivable that a comparable conservative publication- the Wall Street Journal's editorial page, the National Review, or the American Spectator- would have published a 'Regan Suck-Up Watch' in the 1980s".
It is also interesting to note that while the majority of reporters may class themselves as liberal, the majority of editors, senior writers and publishers hold more conservative views. This can be contributed to many things; for example many editors and senior staff are older then the average reporter, this may in tern have led to them having developed a more conservative attitude as they have increased in social and career status, and therefore have more to lose socially and financially. James Fallow believes that "concentrating on this cultural politics gap conceals a larger source of bias in the press… The supposed 'liberalism' of the elite press is more limited than many people believe. On economic issues- taxes, welfare, deficit control, trade policy, attitudes toward labour unions- elite reporters' views have become far more conservative over the last generation, as their income has gone up." This conservatism can be noted in the fact that 80% of editorials favoured President Nixon, yet Nixon himself claimed that the media was highly biased towards liberals.
When trying to discern the bias in the media it is interesting to note the opinions of the American public. Another poll carried out by 'Pew' concerning the thoughts of the public concerning the media found that 64% of the public wanted fair and un-biased media coverage, and a further 73% wanted Anti-American view points to be included in the news as well as Pro-American views. When trying to discern whether the public believed their was any bias in the media in general, the 'Columbia Journalism Review' suggested that in general the public does not always believe there is a bias present in the media coverage. Yet 'The American Society of Newspaper Editors' published a report in which 78% of adults in the United States believe there was bias in the news media. But the 'ASNE' also stated that there was no consensus definition of what "bias" meant. "Almost 30% see bias as 'not being open-minded and neutral about the facts'; 29% believe bias is 'having an agenda and shaping the news to report it'; another 29% define bias as 'favouritism to a particular social or political group.' and 8% said that bias is 'all of these"'. 'ASNE' also stated that the public was also split on the issue of liberal vs. conservative, with 47% saying their local paper tends to be more politically liberal than themselves, and 34% saying it tends to be more politically conservative than they are.
Brent Cunningham, writing for The Columbian Journalism review, stated that "Over the last dozen years a cottage industry of bias police has sprung up to exploit this fissure in the journalistic psyche, with talk radio leading the way followed by Shout TV and books like Ann Coulter's Slander and Bernard Goldberg's Bias. Now the left has begun firing back, with Eric Alterman's book What Liberal Media? And a group of wealthy Democrat's planning a liberal radio network." He believes that one result of this is hypersensitivity among the press to charges of bias.
When looking at whether there is any bias in the media it is important to study the media networks themselves. Republicans often argue that channels like CNN, NBC and ABC are heavily biased towards Liberals. Bernard Goldberg, an ex CBS reporter, states that channels like CBS use tactics like "pointedly identifying conservatives as conservatives, but don't bother to identify liberals as liberals." He states that this was done in order to make the liberals appear to be objective moderates, and thus by implying that liberals are the middle of the road this further implies that conservatives are more right-wing than perhaps they are. Goldberg suggests that it is for this reason that liberals can not recognise their own bias.
Democrats argue that FOX, owned by Rupert Murdoch, is the mouthpiece of Pro- Conservative and Pro-Republican views. FOX's tagline is its "Fair and Balanced reporting". A documentary released in 2004 called Outfoxed: Rupert Murdoch's war on Journalism is devoted to questioning FOX's biased reporting. The documentary featured many interviews by ex-employees of FOX and other leading persons claiming to be for fair journalism.
Frank O'Donnell, an ex-feature writer for FOX, stated that they were "ordered to carry right-wing Republican propaganda'. Clara Frank, a highly respected writer and broadcaster and also ex- broadcaster for FOX, stated that while working for FOX she had "Recognised all the Conservative experts who were on contract to FOX, who varied from talk-show hosts to Radio- show hosts and key political commentators". But the liberal roster had only one person whose name she recognised, and all the others were unknown names. 
Several studies conducted by FAIR (Fairness and Accuracy in Reporting) have found that FOX highly favours right-wing conservative news. When looking at one and one interviews featured on FOX's flagship news show 'Special Report', there is a large inconsistency between the political affiliations of its guests. Over 25 weeks of one and one interviews republican guests out weighed Democrats by 83% to 17% respectively. When looking at the affiliation of the Democratic guests who were interviewed, 5:1 were conservative Democrats rather than Liberal Democrats.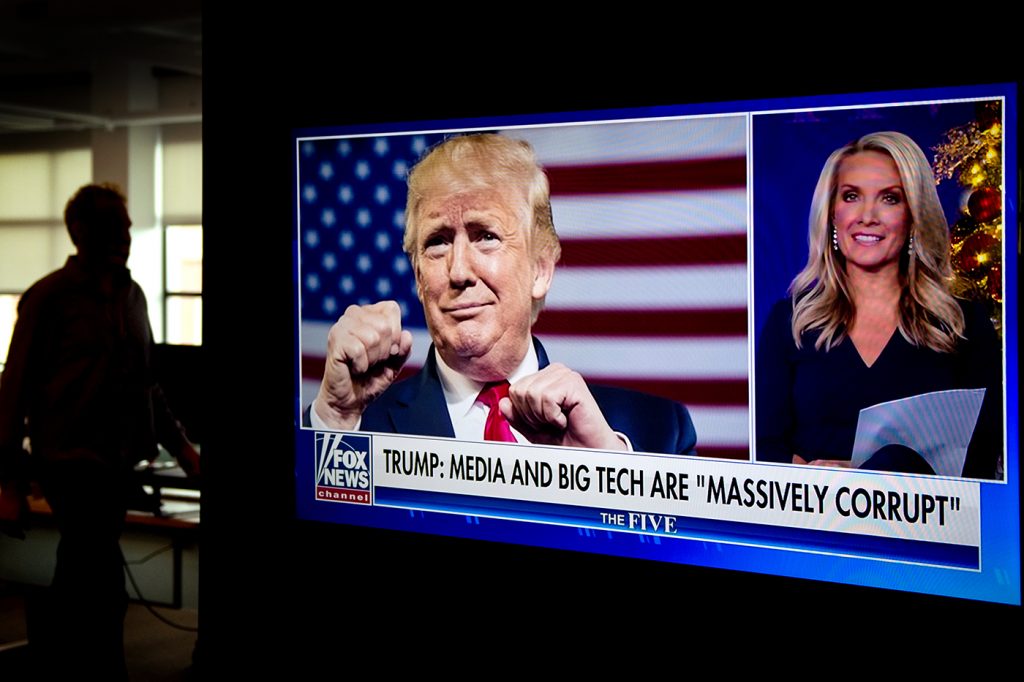 While Democrats claim that channels like FOX, and radio shock jockeys like Rush Limbaugh and G. Gordon Liddy make no pretence to be un- biased, Republicans often argue that it is channels like CNN, NBC and ABC that are heavily biased towards Liberals. FOX itself argues that liberals are unable to hear pro-liberal bias, because they are used to so much of it being on every other channel, and as FOX is 'fair and unbiased' their liberal bias is equal to their conservative bias, and thus smaller than the bias featuring on other channels.
There are several organisations that have been set up to monitor the bias in the media. Groups like 'Accuracy in Media', 'Fairness and Accuracy In Reporting' and 'Media Matters for America' all claim to 'watchdog' the media for examples of media bias. Each of these organisations blames different factors for the amount of bias in the media. FAIR states that "Mergers in the news industry have accelerated, further limiting the spectrum of viewpoints that have access to mass media. With U.S. media outlets overwhelmingly owned by for-profit conglomerates and supported by corporate advertisers, independent journalism is compromised". Both 'AIM' and 'Media Matters for America' state their mission to set the record straight on important issues that have been 'botched' due to bias, 'AIM' believes that this bias is liberal, while 'Media Matters for America' believes the bias to be conservative.
As these organisations themselves are often set up by one of the political party's, they are likely to them selves be prone to bias. Only a small number of these organisations offer a reasonable way to get rid of bias in the media. 'FAIR' is one of the few organisations to offer what it believes could help the media rid itself of bias. It believes that "structural reform is needed to break up the dominant media conglomerates, establish independent public broadcasting, and promote strong, non-profit alternative sources of information"
Another survey carried out by PIPA (The Programme on International Policy Attitudes) shows that there is large discrepancies between the views of FOX's audience and other news networks audiences regarding key issues.  When asked questions regarding the war in Iraq, for example "Has the US found links between Iraq and Al-Queda?" 67% of FOX viewers said yes, compared to 16% of PBS or NPR viewers. 
But it is unlikely that the media will ever be able to rid itself of any bias. In today's media environment bias is as inevitable as conflict, and as long as there are so many avenues for expression in the media through newspapers, radio, television and the internet, everyone is able to voice their opinion.  No organisation in the world is likely to ever be able to police them all, and thus an environment does not exist in which any legislation or code of practice like the 'Fairness Doctrine' can be enforced. And while it can be complained that bias is present in any given column or news channel, as long as there is a medium that is accessible to all who wish to voice their opinion it must be asked if it matters whether this bias is conservative or liberal, so long as both may have their say somewhere.  
Bibliography:
Books:
Timothy E. Cook, Governing with the news, University of Chicago Press, 1998.
James Fallows, Breaking the News: How the Media undermine Americas democracy, Vintage Books, 1997.
Al Franken, Lies and the Lying Liars who tell them, Penguin, 2004
Bernard Goldberg, Bias, Regnery Publisher Inc, 2002.
Websites: